BY ALMA HAMMOND
Can you say Chrysalis [kris-uh-lis]?
Did you know butterflies are not "born" from cocoons? When metamorphosis from a caterpillar to a butterfly is complete, butterflies exit a structure they created themselves when they were caterpillars called a chrysalis. Cocoons are spun by caterpillars that will become moths not butterflies! How a chrysalis fits in to the butterfly life cycle is a magic act children will sure to enjoy learning more about. Keep reading for a lesson plan for the Kindergarten to Second Grade classroom that will have them learning more than most adults know about the process.
In the book, "Catterfly is Born," the star of the show is a creature that is part-cat and part-butterfly, "Catterfly". Her fun story will keep kids engaged as they take a deep dive into their first lessons on butterflies, and they also come to understand that being different is just great! The book will be used both as a reader and instruction guide in the lesson plan.
But first, some background on the lifecycle of a butterfly: 🙂
The LifeCycle of a Butterfly
It really comes down to a few simple steps:
A butterfly lays an egg on a leaf.
A caterpillar is born from the egg and spends it's life eating and eating, and well, eating!
When it's time, the caterpillar hangs typically from the underneath of a leaf in a structure it creates themselves, a chrysalis.
Within the chrysalis, metamorphosis takes place. This means the caterpillar becomes a butterfly.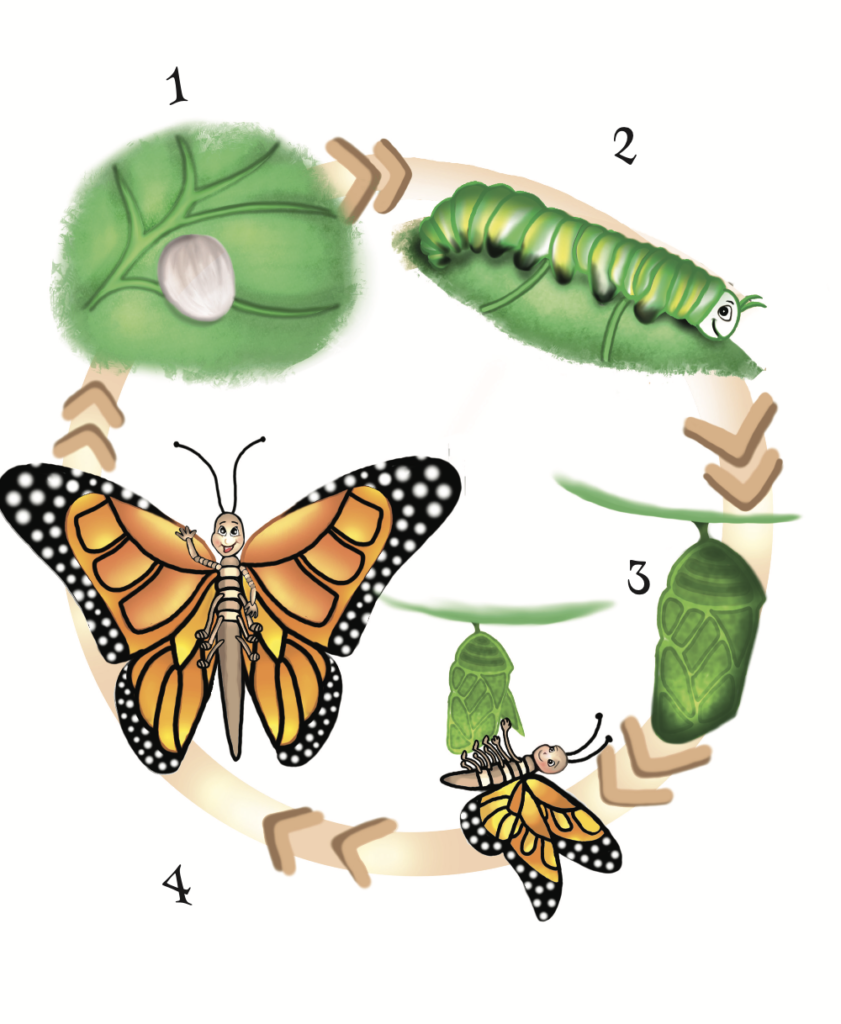 Butterfly Lesson Plan for K to 2nd Grade
Materials:
Catterfly is Born by Alma Hammond, Get book here: https://www.amazon.com/Catterfly-Born-Alma-Hammond-ebook/dp/B07QZCP6FZ/
Print out Fun Facts of the book from "Catterfly is Born."
5 paper plates for each child
(2) 14 inch pieces of string for each child
Markers, glitter, and glue
Steps:
Class One: Reading, Vocabulary, and Discussion
Read "Catterfly is Born" in class, go over new words!
Distribute a photo copy of the Fun Facts from the back of the book.
Have each child explain which one they like best and why.
Open up discussion on differences and the positive ways it helps the world!
Class Two: Butterfly Mobile Art Project
Have each child write their names on the first plate
On the second plate, have them draw and color an egg on a leaf and the number, 1
On the third plate, have them draw and color a caterpillar and the number, 2
On the 4th plate have them draw and color a chrysalis, and the number 3
On the 5th plate have them draw and color a butterfly, and the number 4
Punch holes in plates to create a mobile with the Name plate being at the top. Hang the egg and butterfly plates from the left side of the Name plate. Hang the caterpillar and chrysallis plates from the right side of the plate.
What more? Catterfly goes on to teach children about pollination. Check out Book 2 in the series here:https://www.amazon.com/Catterfly-Grows-Garden-Alma-Hammond/dp/1733153977/
Join my group on Facebook for more free children's books, activities, and lesson plans:
https://www.facebook.com/groups/1209866392483499
Watch Catterfly is Born trailer! https://sweetbeetbooks.comcatterfly-is-born/
Another Lesson Plan by Typhanie Sharfner using "Catterfly is Born" as instructional manual.